OpenDialog hosted a webinar to explore the intersection of Conversational AI and healthcare. Specifically, focusing on conversations between experts in the field to find out how automation and Conversational AI can support elective care recovery in the NHS.
The speakers included Terry Walby, Co-founder and CEO of OpenDialog, Sharon Osterfield, Transformation Director at e18 Innovation, Julian Chadha, RPA General Manager from Huddersfield NHS Trust, and Rob Child, Programme Manager at Leeds Teaching Hospitals. They delved into their experiences with automation and Conversational AI, as well as providing insight into the potential benefits and drawbacks of this technology in healthcare.
Why Has the NHS Started to Look into Automation?



Sharon provided context on why the NHS had started looking into automation, specifically for elective care recovery. She explained that during her 28 years in the NHS, she had seen many changes around targets and delivering activity as backlogs and wait times increased. In 2019, there were approximately 4.5 to 4.6 million patients waiting for elective care, which steadily grew. Between March and June 2020, there was a dramatic decrease in waiting times, with the number of patients dropping to 3.96 million, only to rapidly shoot back up to 4.5 million by October 2020. As of November 2022, the number of patients waiting was at a staggering 7.19 million, a significant task for any elective care provider.
To address this issue, NHS England provided additional funding to set up Community Diagnostic Centers and surgical hubs, but this was not enough to deliver what was needed. The NHS then set out a robust Elective Care Recovery Agenda with targets, such as reducing wait time to no more than 78 weeks by March-April 2023, and 52 weeks by March 2025. They also aimed to increase capacity by delivering an extra 9 million diagnostics, reduce follow-ups by 25%, provide advice and guidance, and implement a more patient-centric approach to care.
All of this was happening in a backdrop of financial constraints and staffing difficulties due to the pandemic and strikes. To address these challenges, automation was seen as one of the answers, and NHS England provided funding for unified Tech funds and other parts of funding to support the automation journeys of many of the clients that e18 worked with.
Automation Approaches in the NHS
Terry spoke about the increasing maturity and adoption of automation approaches in healthcare to deliver efficiencies and improvements in patient care.
Robotic Process Automation (RPA)
The first wave of automation was using Robotic Process Automation (RPA) to replicate existing human-executed processes with a piece of technology.
Digital Workers
The next wave was creating digital workers that could reimagine how things were done and do things that couldn't have been done by humans.
Intelligent Document Processing
The third wave was ingesting unstructured data into a process and using that as a trigger to execute an outcome.
Conversational AI
The current wave is conversation automation, where conversational interactions can be replicated or augmented with technology to deliver not just cost efficiencies, but also improvements in patient care.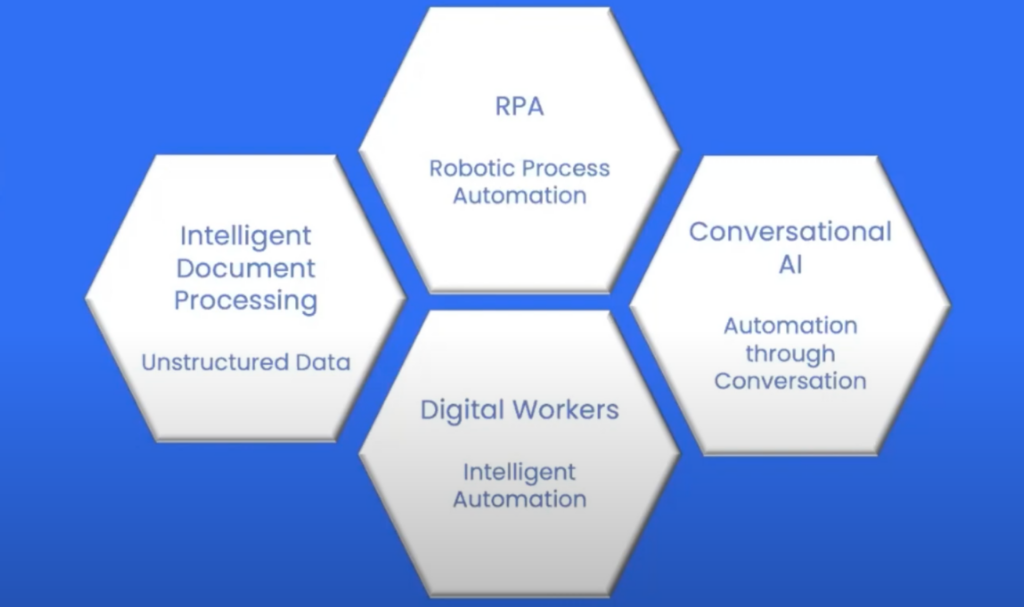 Automation journeys in the NHS
Calderdale and Huddersfield
NHS Trust
Julian spoke about Calerdale and Huddersfield's RPA automation journey, which aims to use digital technologies to improve processes and free up time for the Trust. They started by automating the process of moving patient referral documents, which used to be done manually by staff and took 5-10 minutes per referral. After running the automation for three months, they had saved up to 29 hours per day, with additional benefits such as increased productivity and staff morale. They are now looking at different systems to find the most robust solution and are exploring other digital options that can benefit the staff and Trust.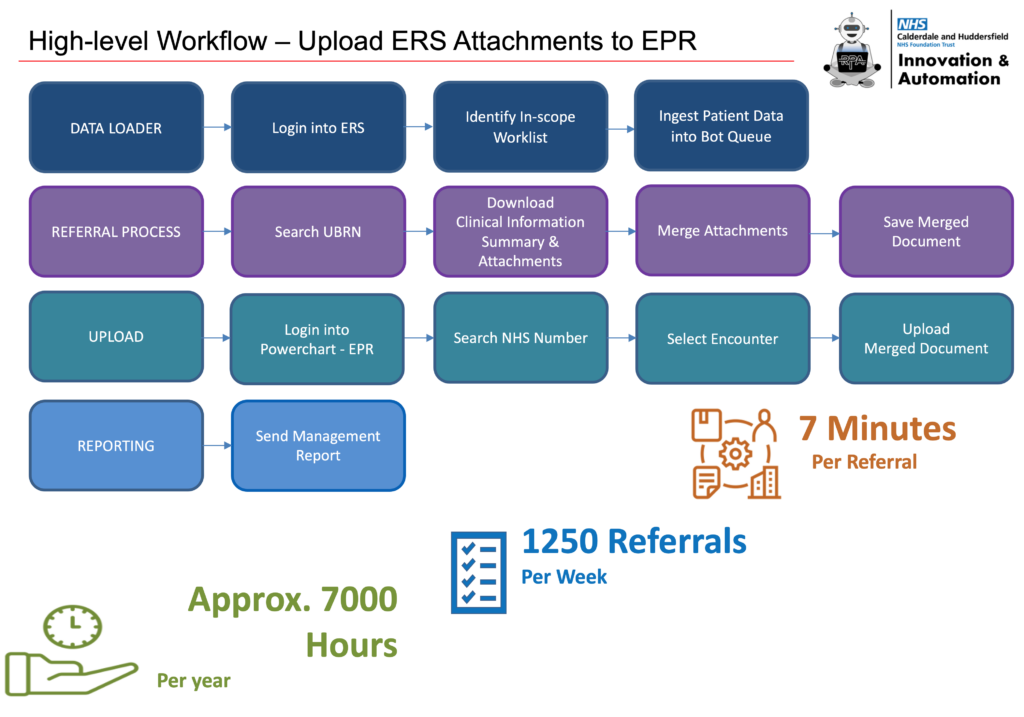 The Leeds Teaching Hospital
NHS Trust

Rob discussed the progress of automation at The Leeds Teaching Hospital, where they have been live for three years and have a team of four, managing 41 processes across the Trust. They use DevOps to manage their pipeline, with 92 automation ideas that have been put forward, 15 processes that were not right for automation and 41 that have been automated across the organization. Their roadmap for 2023 – 2024 includes everthing from basic administrative tasks to innovative cancer pathways, and is focused on making their automation efforts sustainable and beneficial for patients.

Uses cases in an outpatient setting
Sharon discussed how the NHS was moving towards personalized care and personalized medicine, which was labor-intensive and required patient engagement. She mentioned that between 2021-2022, the NHS had 14.3 million patients who did not attend their appointments, leading to significant waste. To address this issue, Conversational AI can be used to engage patients, schedule appointments, and remind them of their appointments.
Sharon also provided a use case where patients in Birmingham were offered free transport, resulting in a significant reduction in DNA rates. This approach is complementary to automation and can provide a patient-centric approach to outpatient management.