OpenDialog's commitment to driving innovation in the healthcare sector was on full display as the company participated in healthcare events on both sides of the Atlantic in September. The back-to-back events, Healthcare Partnership Network (HPN USA) in Miami, FL, and Healthcare Excellence Through Technology (HETT) in London, UK, served as a platform for OpenDialog's team to engage with industry leaders and share how our specialist healthcare solutions enable providers to eliminate inefficiencies and reduce administrative burdens while enhancing the patient experience using Conversational AI.
Healthcare Partnership Network (HPN USA), Miami, FL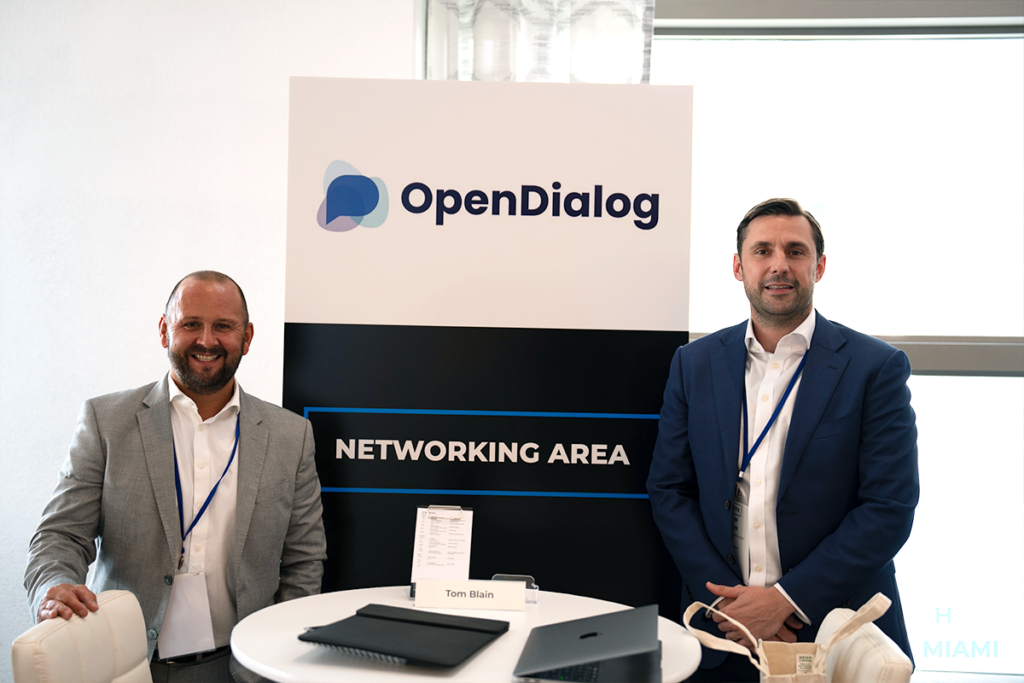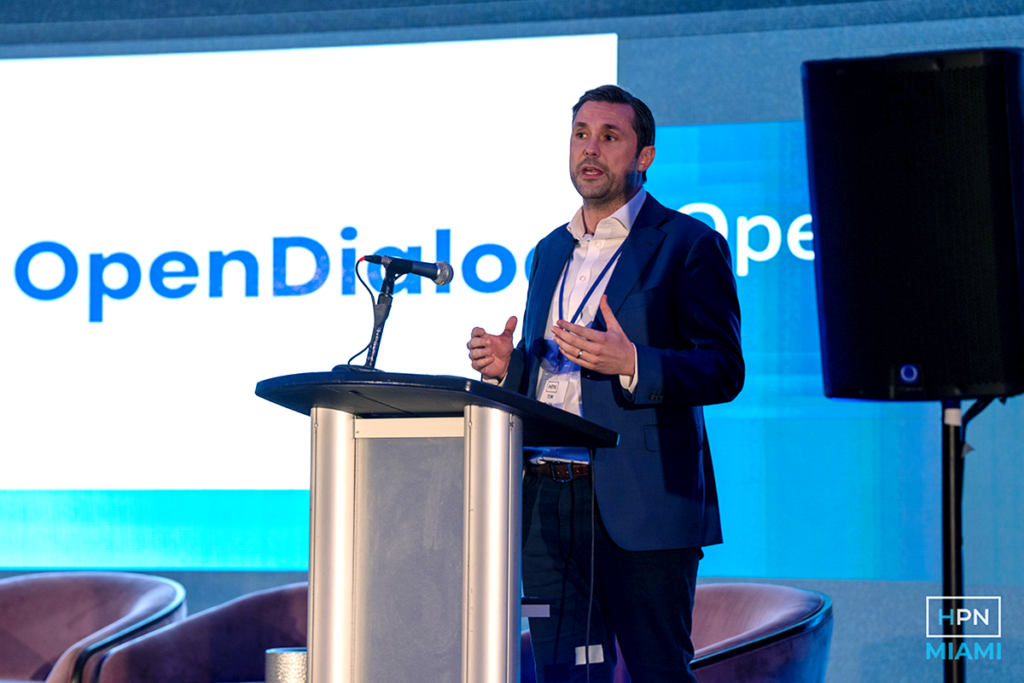 OpenDialog's Chief Commercial Officer, Dean Chapman, and Senior Vice President, Tom Blain, joined C-suite digital, financial, operational, and clinical leaders from healthcare systems across the USA, for two days of interactive sessions, and to exchange ideas, insights, and applicable new practices on a global scale.
Against a backdrop of mounting financial pressure and operational challenges in the healthcare sector, a clear theme emerging from the event was that the key to resolving many of these challenges is in the effective utilization of AI, with various speakers and panels covering the topic.
This included a well-received presentation by OpenDialog, who demonstrated various ways in which OpenDialog's generative AI-powered digital agents address these challenges by streamlining operations through automation, while prioritizing patient health and experience.
Healthcare Excellence Through Technology (HETT), London, UK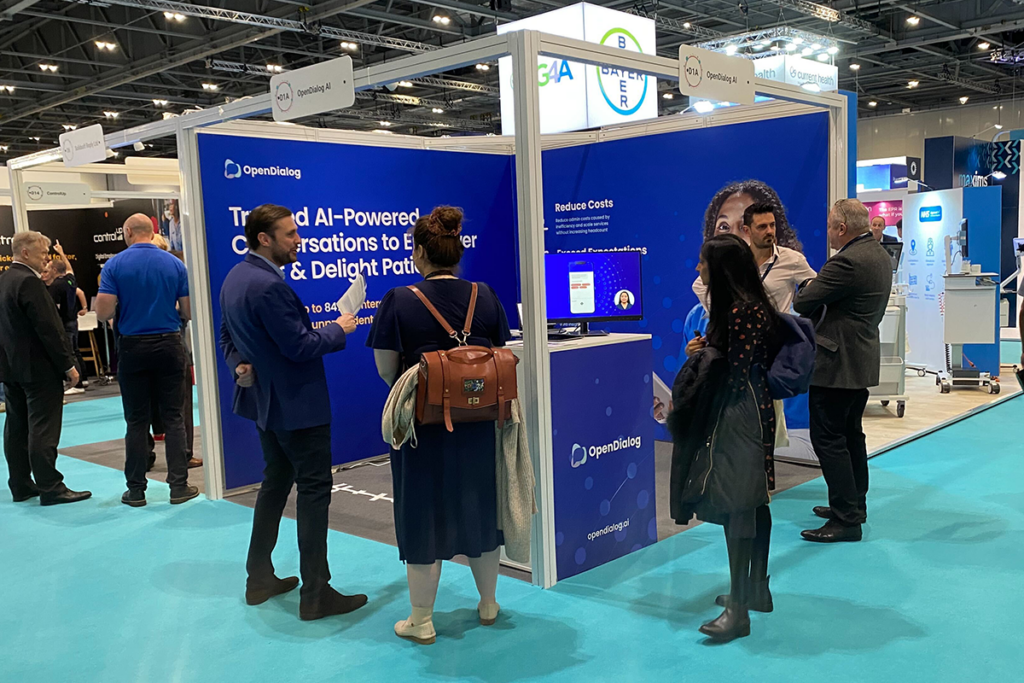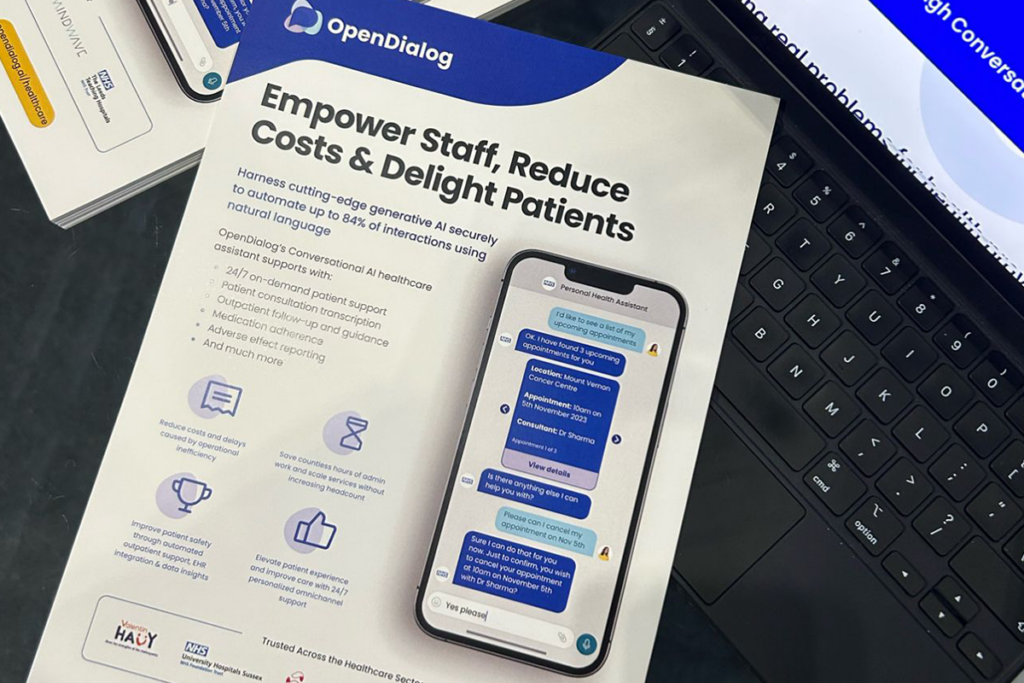 OpenDialog's roadshow continued as the team joined healthcare transformation leaders at the ExCeL London for the UK's leading digital health event, HETT 2023. The event explored the systems and infrastructure that underpin and enable a data-driven NHS, supporting the ecosystem to deliver patient outcomes through the meaningful implementation of technology. As part of its National Strategy for health and social care, the NHS plans to leverage AI to enhance the patient experience, support the workforce, and improve overall system efficiency. OpenDialog is at the forefront of this revolution, offering AI solutions that align with the NHS's vision for a more efficient and patient-centric healthcare system.
The OpenDialog team were kept engaged by a whirlwind of activity at their booth by interested attendees as they demonstrated how OpenDialog's Generative AI-Powered digital healthcare assistants can alleviate the strain on NHS staff and enhance accessibility, experience, and outcomes for patients.
OpenDialog's journey from London to Miami demonstrates the company's unwavering commitment to revolutionizing healthcare conversations, promoting compliance, and ultimately improving patient outcomes through cutting-edge Conversational AI solutions. With healthcare challenges becoming increasingly complex, OpenDialog's innovative approach holds the promise of a brighter future for healthcare providers and patients alike.